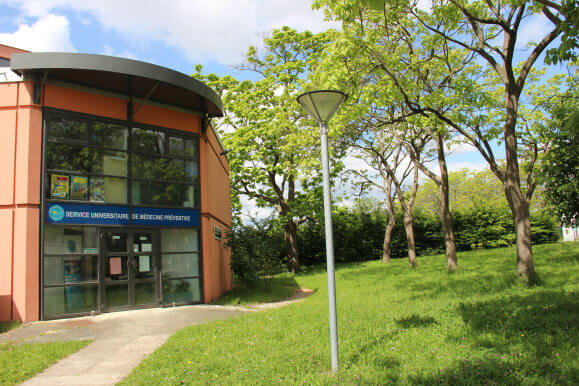 The University Service for Preventive Medicine and Health is open to all students of Université Sorbonne Paris Nord for medical check-ups and psychological support throughout the course of their studies.
All students can benefit from the following free of charge:
Emergency care, non-emergency medical care or advice, consultations with a doctor, consultations with a nurse, consultations with a gynecologist, sessions with a psychologist for talk therapy, support and guidance if necessary, vaccinations, blood tests and special arrangements for disability.
Contact
Villetaneuse Campus: 01 49 40 30 78
Bobigny Campus: 01 48 38 88 28 or 06 15 71 64 96
Saint-Denis Technical Institute: 01 49 40 61 85
Infirmary

Nurses are available to students to administer care, listen to their problems, and provide advice and guidance with regard to health and prevention.

Services for students with disability

Services for students with disability can be seen by the doctor of the University Service for Preventive Medicine and Health in order to make the necessary arrangements for facilitating their integration into the university and their pursuit of their studies in the best conditions.

Health education

In partnership with many health partners, the University Service for Preventive Medicine and Health organizes prophylactic events and awareness-raising campaigns during the academic year on different topics related to public health such as AIDS and sexually transmitted diseases, nutrition, metabolic disorders, addiction, sleep, oral hygiene, etc.

Psychological counseling and support

Students who wish to receive psychological help or support can make an appointment to meet a psychologist with complete confidentiality.

Gynecology and family planning

A gynecologist and family planning advisor can provide consultations on Monday mornings if you schedule an appointment.

Consultation for oral health screening

Students can schedule an appointment for oral health screens and referrals to a suitable treatment center.

Systematic doctor's appointment by invitation

This is for the purpose of a medical examination which will include a vision test, a hearing test, a biometric test and a general test performed by a nurse and a doctor.

Doctor's appointments at the request of the student

All students can make an appointment to see a doctor for a medical examination, advice, a certificate of fitness or a certificate of exemption from sport. Only the doctor of the University Service for Preventive Medicine and Health is authorized to issue an exemption from sport.

Blood tests

Biological tests can be carried out free of charge once a month in Villetaneuse in partnership with the health examination center of the Caisse primaire d'assurance maladie (a regional health insurance provider) of Bobigny.

Vaccinations

Free vaccinations are available to students.